a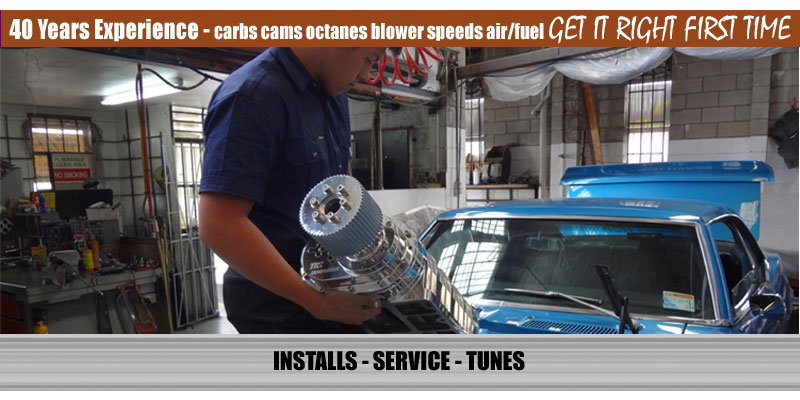 Follow us as we install a Billet 8-71 Blower Shop Blower onto Peter and Robyn Ganleys 489ci BB Chevy powered 68 Camaro
Murray Smith built the engine and just prior to bringing it over to our shop Murray fitted a new steel damper so it was ready to go.

Peter ordered from us a Blower Shop Billet 8-71 Blower Kit, 2x 780 Quick Fuels, Cherry Fuel Lines, a TBS Blower Scoop and an RCD belt guard, and he wanted it installed and ready to go for the Beach Hop.

The car came to us with the intake manifold off so we were able to get straight into the job.
Peter had also done a lot of the prep work, ie the distributor had all the leads on and all the bracketry was properly done so we didn't have to spend any time 'fixing up' any sub workmanship, this can save a lot of time (money).
Car is sat up on the trucks to wheel it round into the install area.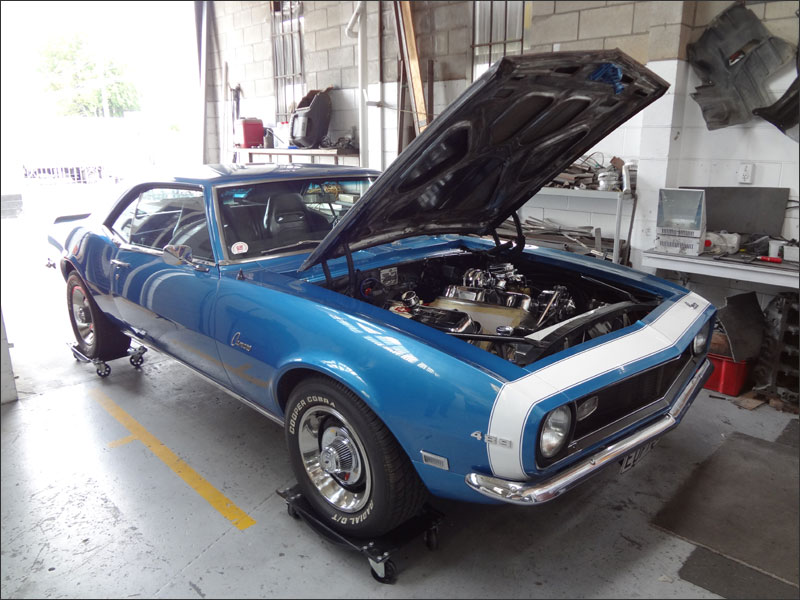 a
This is how the car arrived from Pete, manifold was off and we were ready to go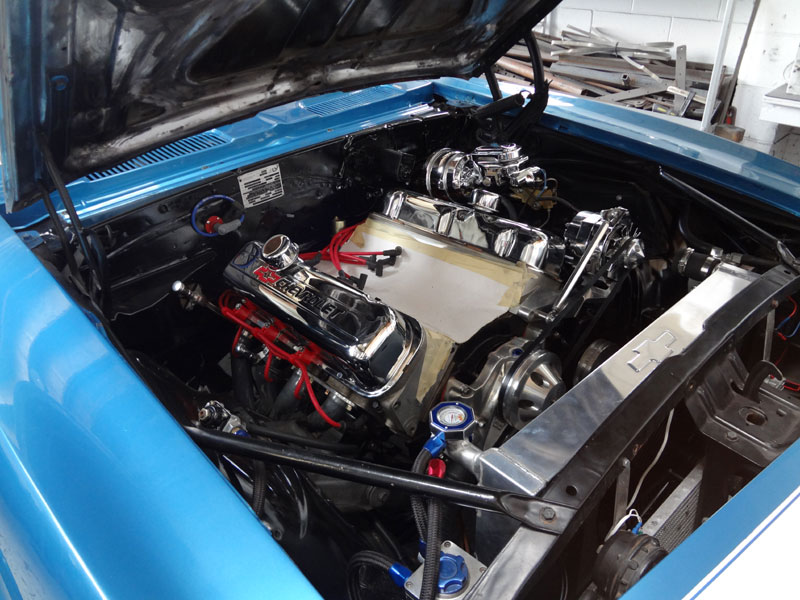 a
Here we have sealant on the heads and the intake gaskets are sitting on ready for the manifold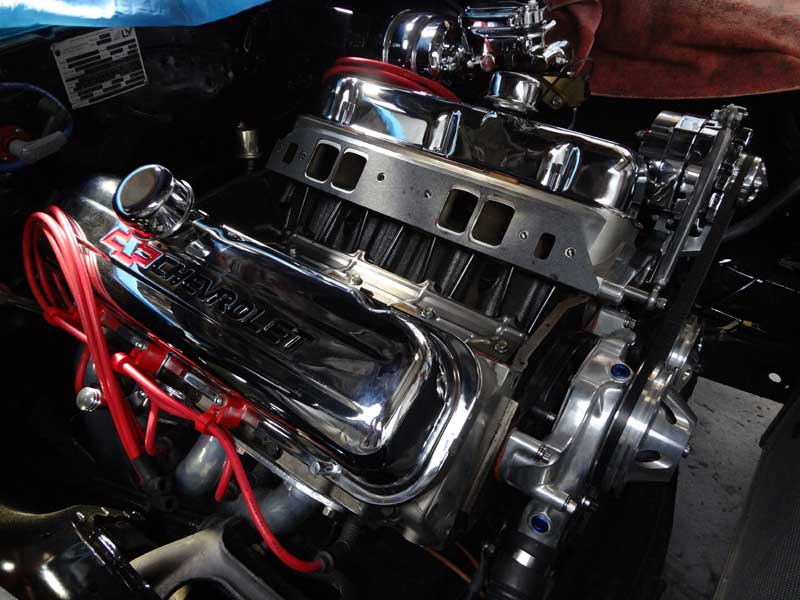 a
Running a bead around the ports ready for the manifold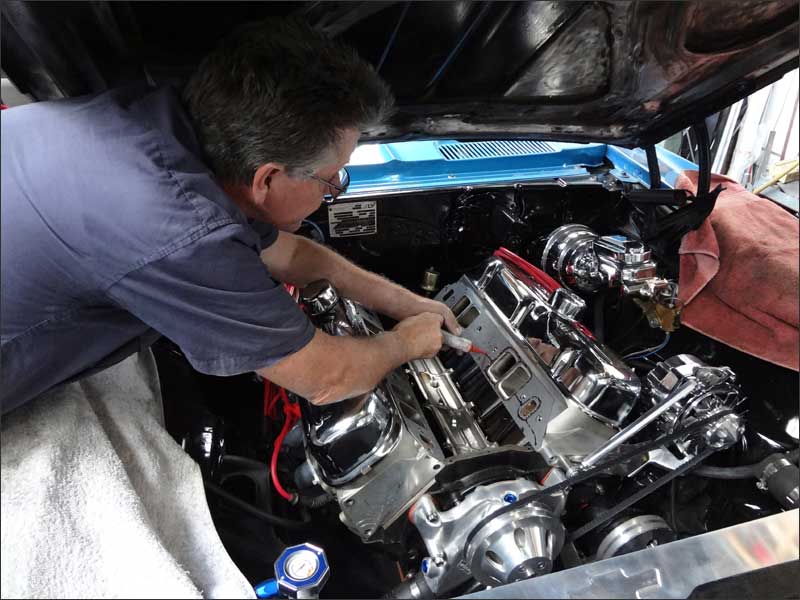 a
Silicone on the manifold and the block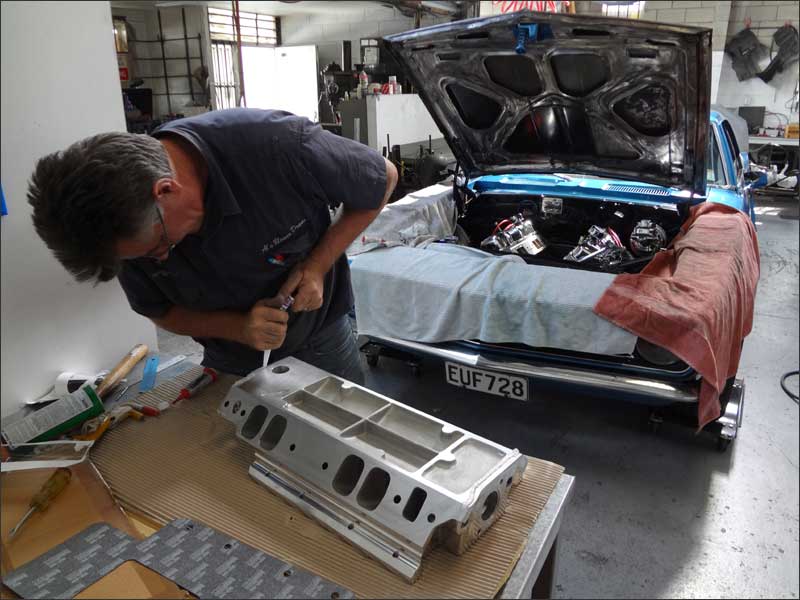 a
Studs in the manifold help to lower it down in just the right place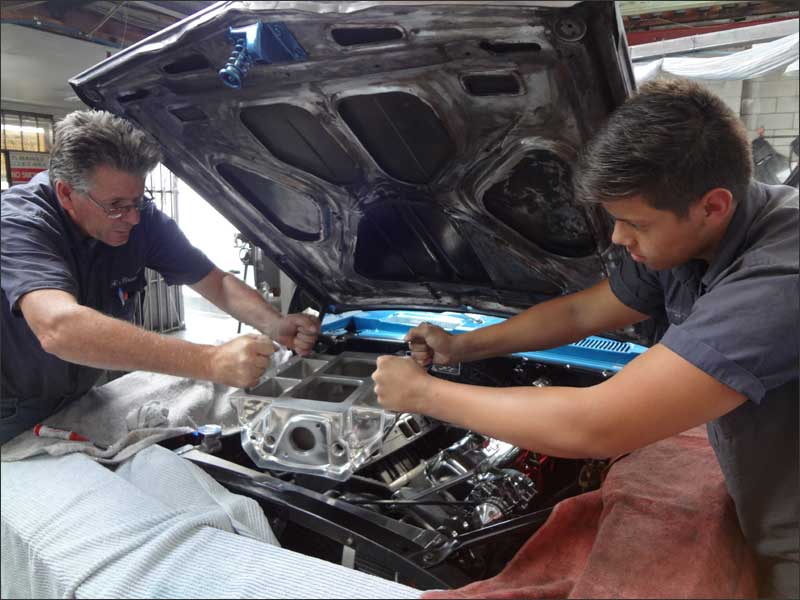 aa
Evenly all over with the bolts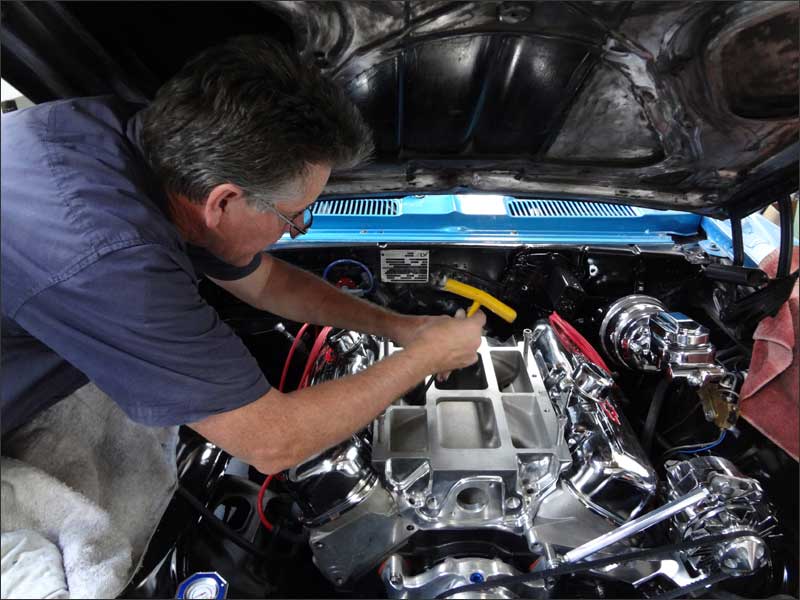 a
The lower turbo 350 tab on the carburetors removed for rotational clearance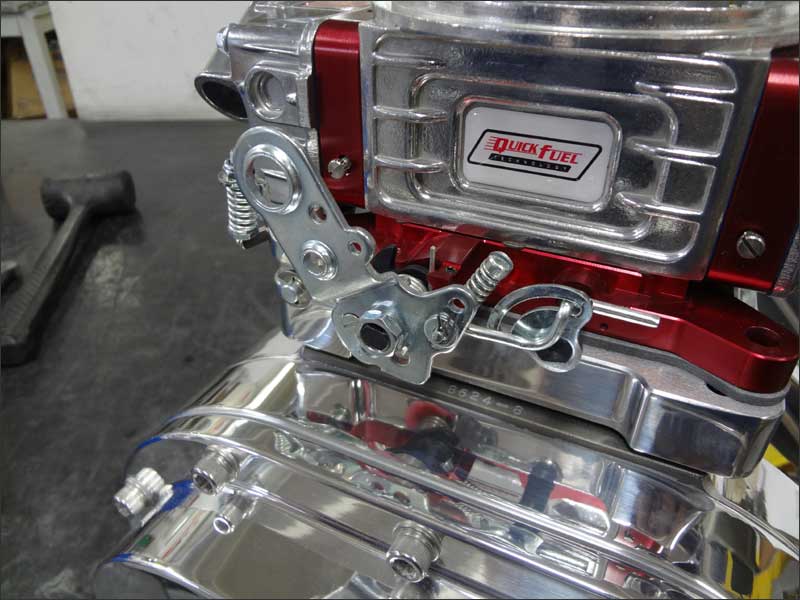 a
Measuring how much throttle travel at the carb compared to the Camaros actual throttle movement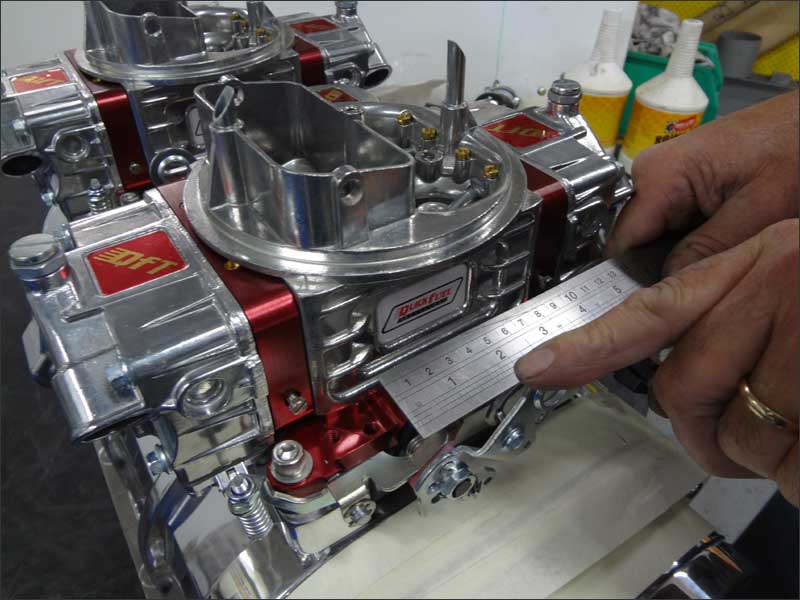 a
The Cherry fuel lines we sell need a little gentle raising to level when used on Quick fuels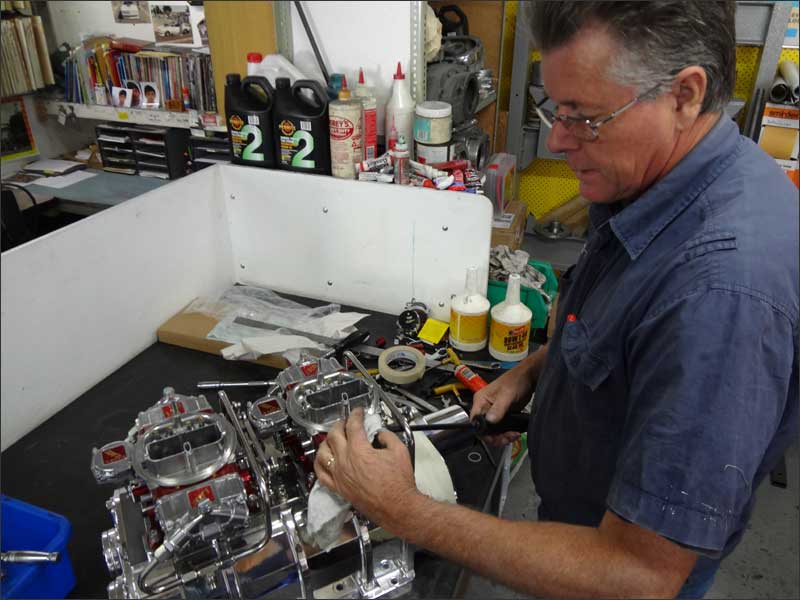 a
Cherry Fuel line look better and the bridal fits nicer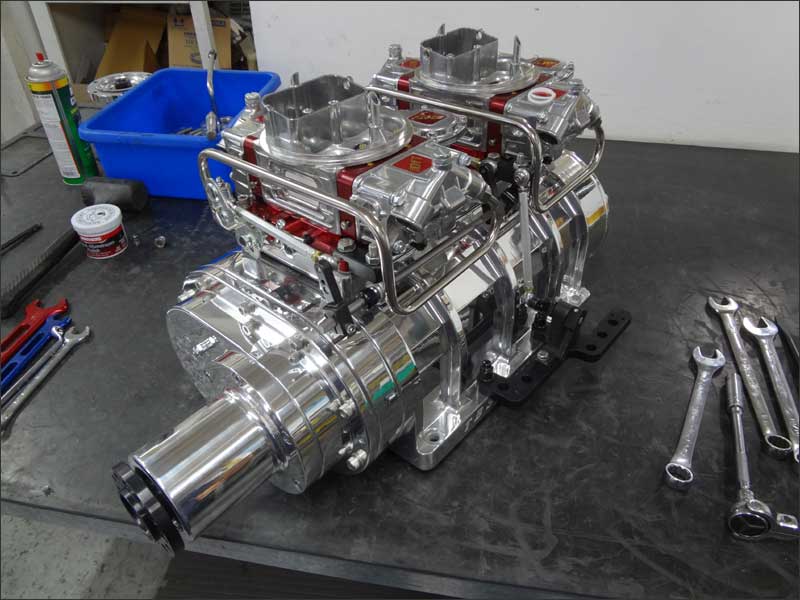 a
You can spend a lot of time setting up the sideways linkage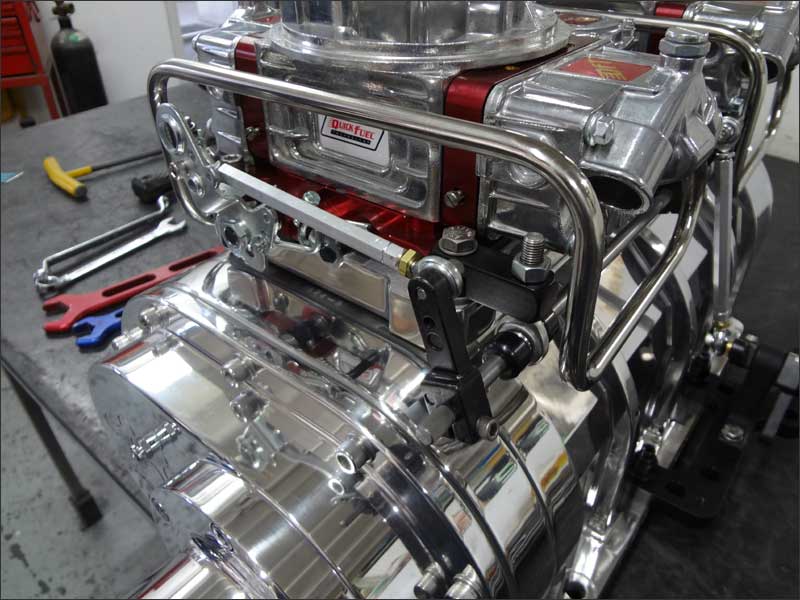 a
The top of the rear carbs throttle side linkage needs to be removed for clearance on the front carbs vacuum can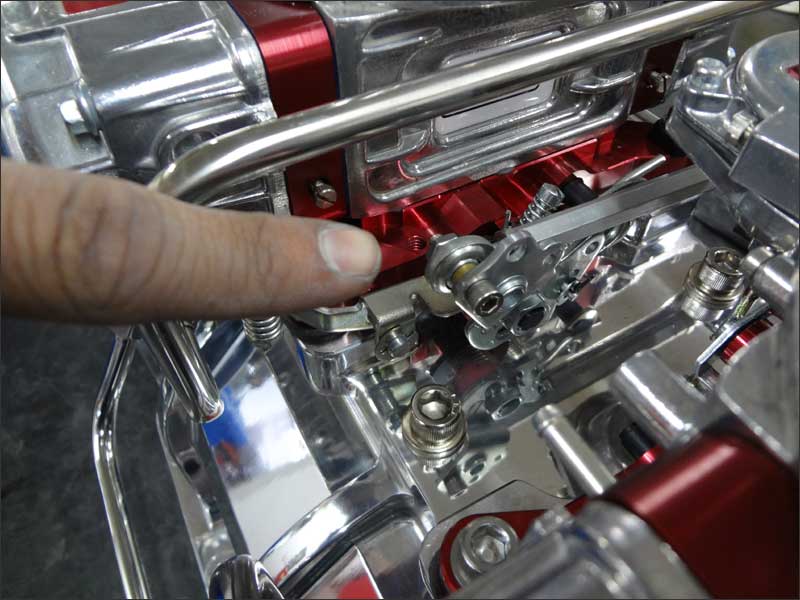 aa
Here are the cherry fuel lines and bridal for single entry setups we sell for dual Carb Blower setups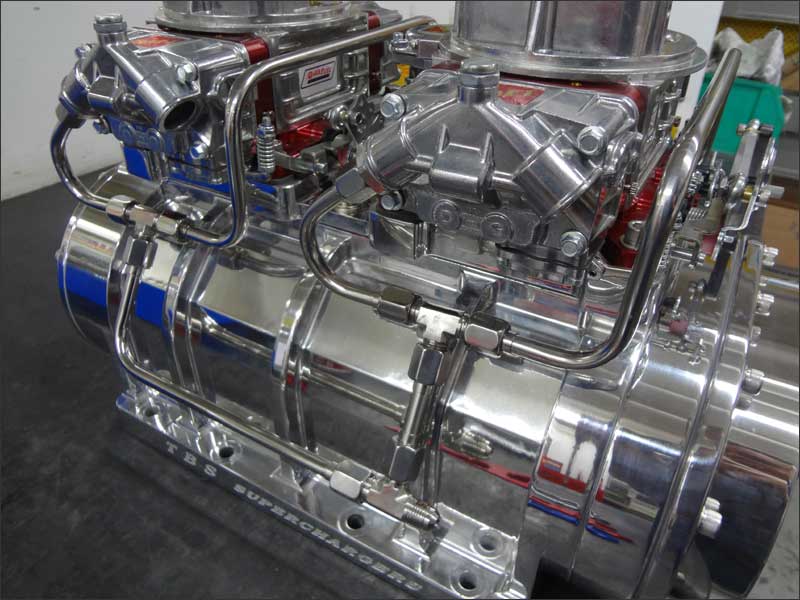 a
Initally working out the hood gaps for cutting the hole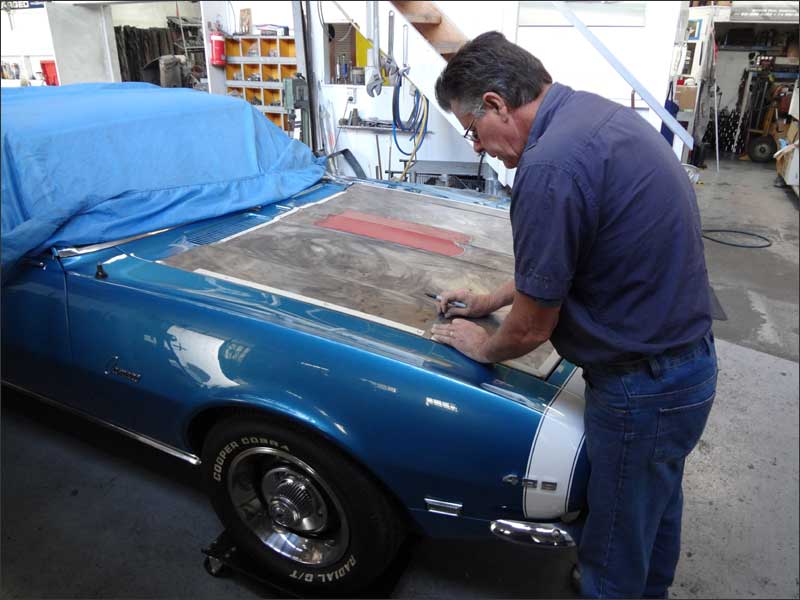 a
Luke priming the engine ready for the MSD install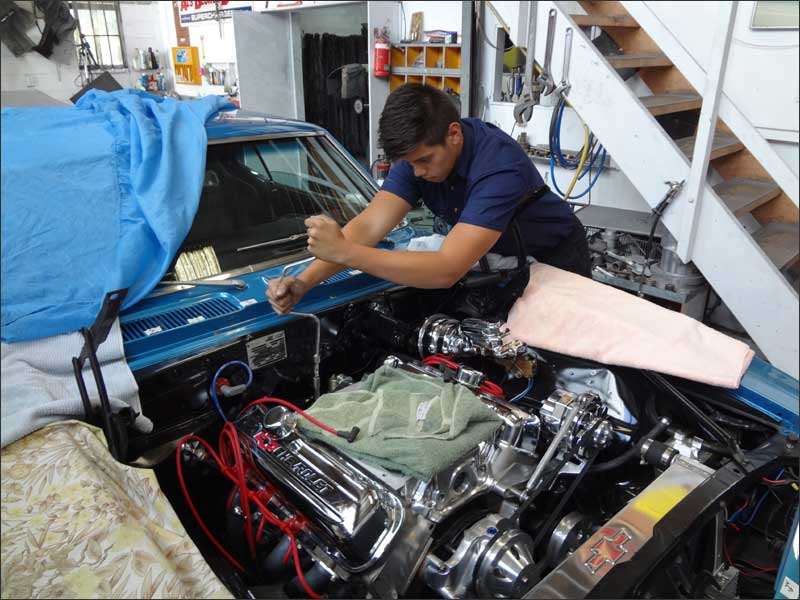 a
here we have set up the distributor for this particular application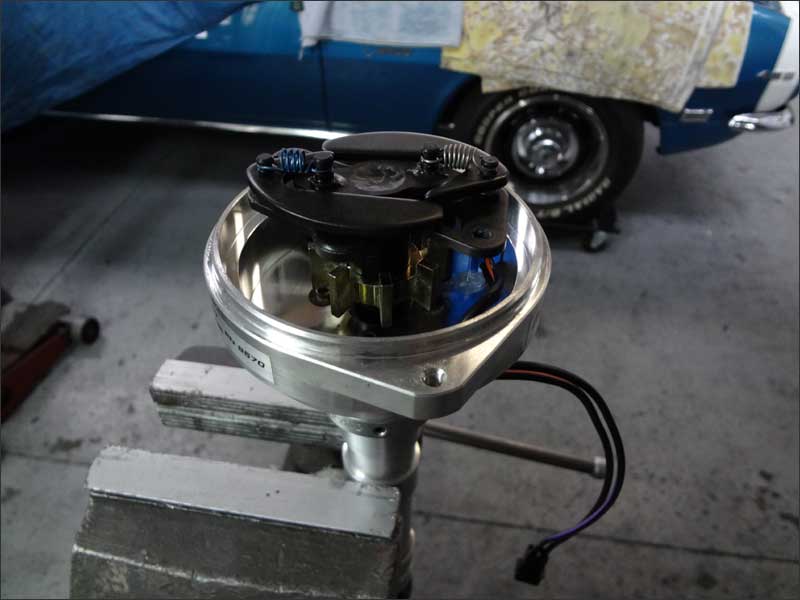 a
Once the manifold is on you can get your bearings for the rest of the job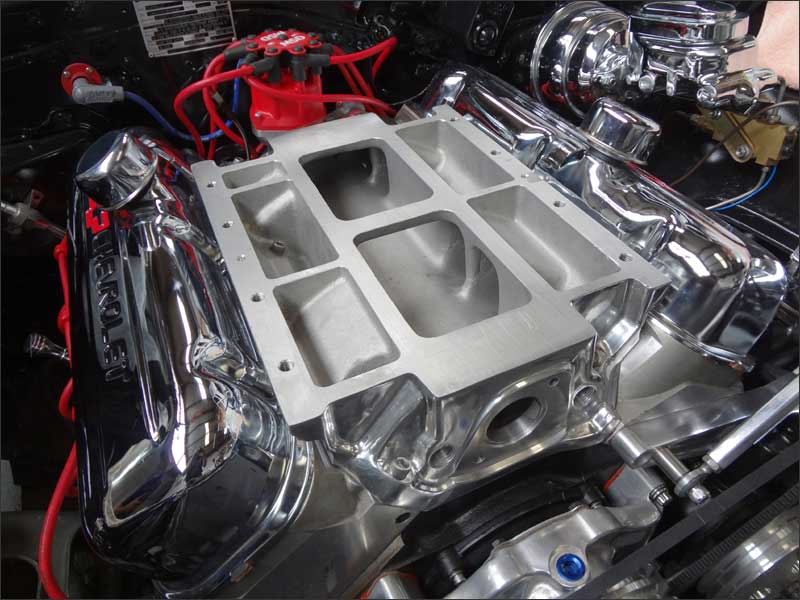 a
The nice thing about the Blower shop manifolds is you get the gaskets and blower racing studs with them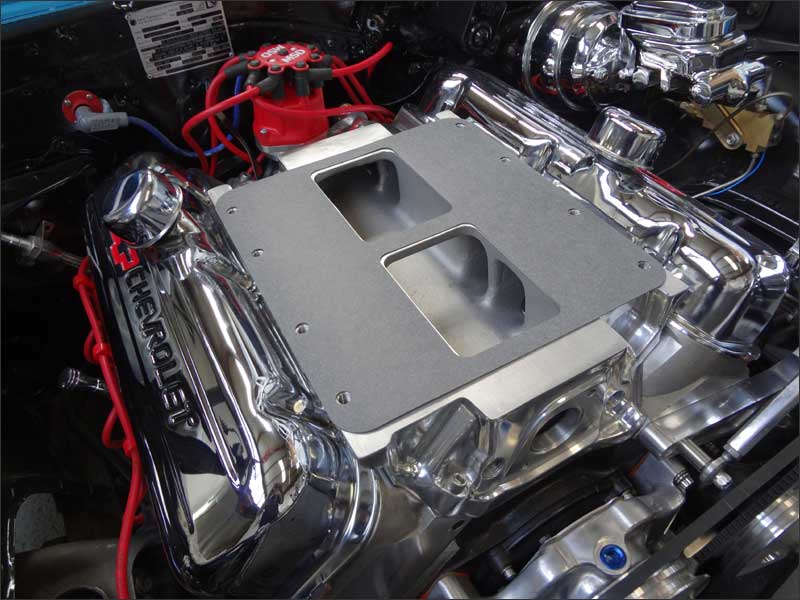 a
Weighs about the same as a bag of cement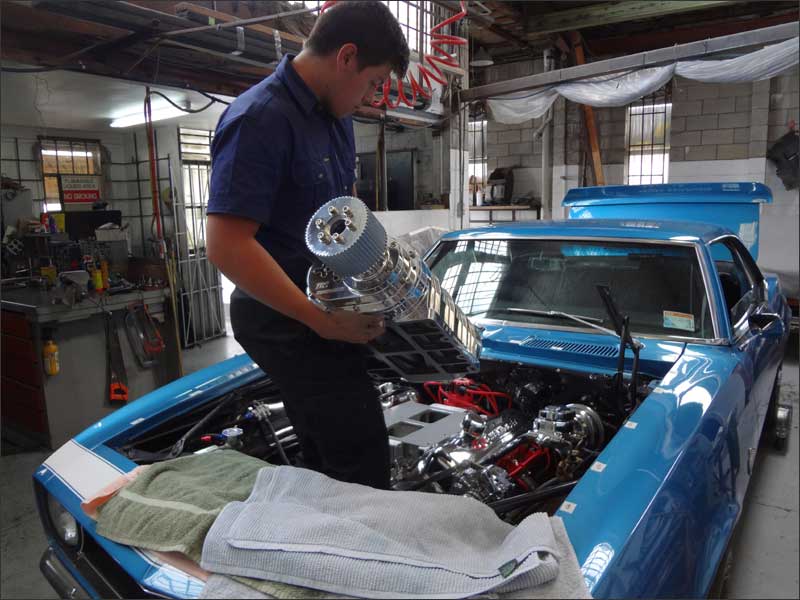 a
Down she goes the blower shop kits come with racing studs and can be screwed inh after the blowers down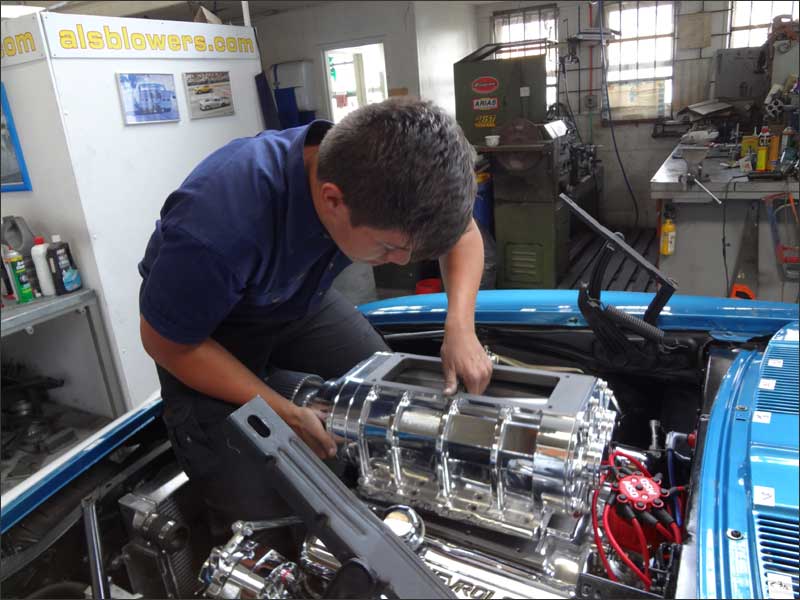 aa
On goes the carbs temporarilly for hood cutting measurements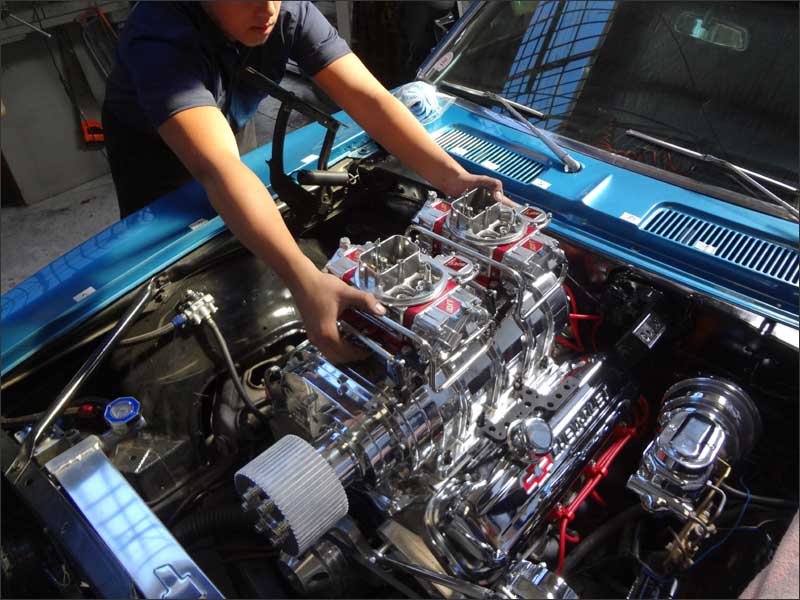 a
Heres the cardboard patten for initial hole size measurements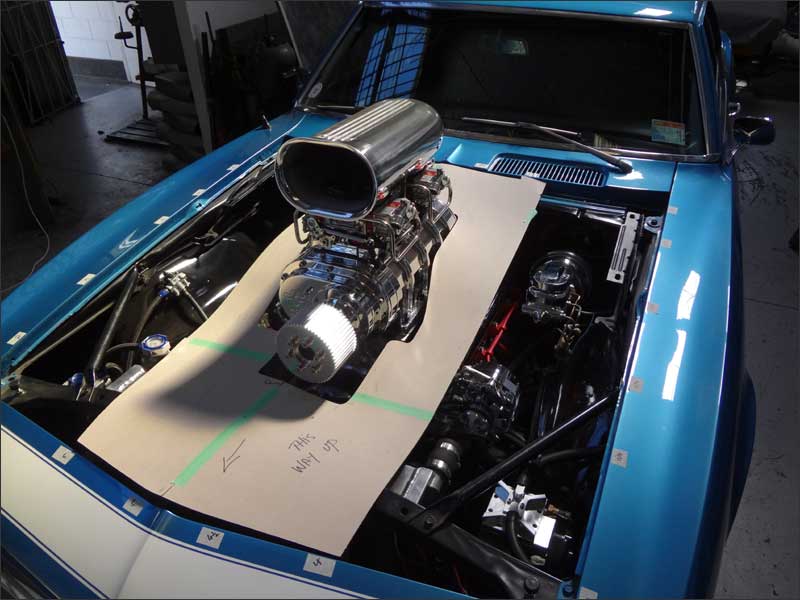 a
Belt Guards on, Vince and I trial fitting the intitial hole opening, lots of time here checking and double checking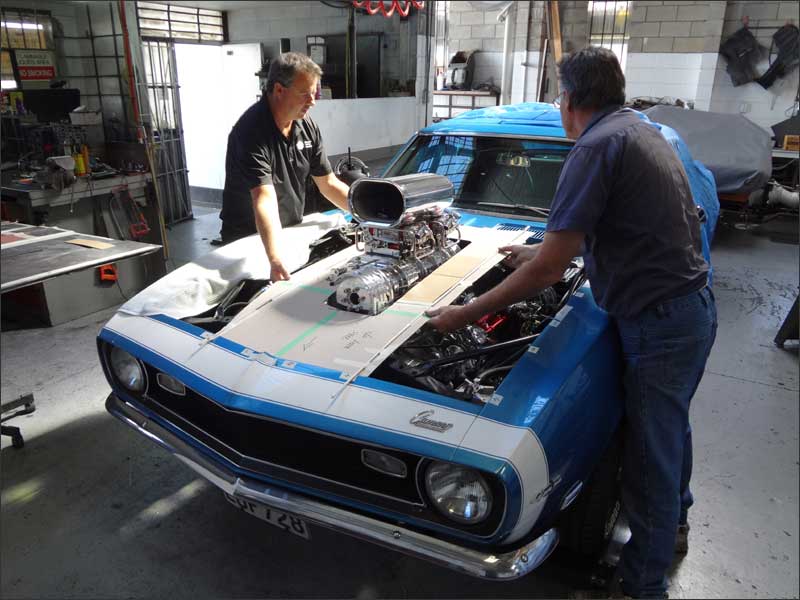 a
The dogs bowl was a good radius for the scoop clearance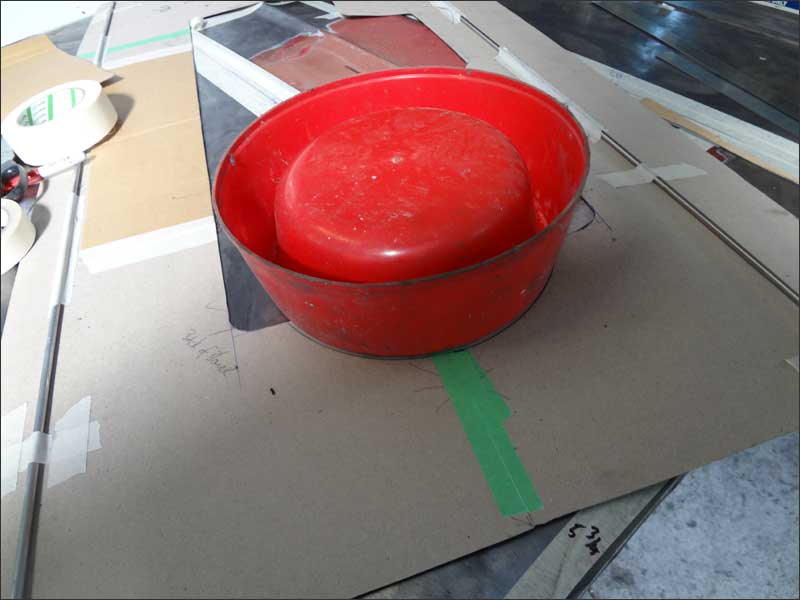 a
The initial hole, hope its in the right place Pete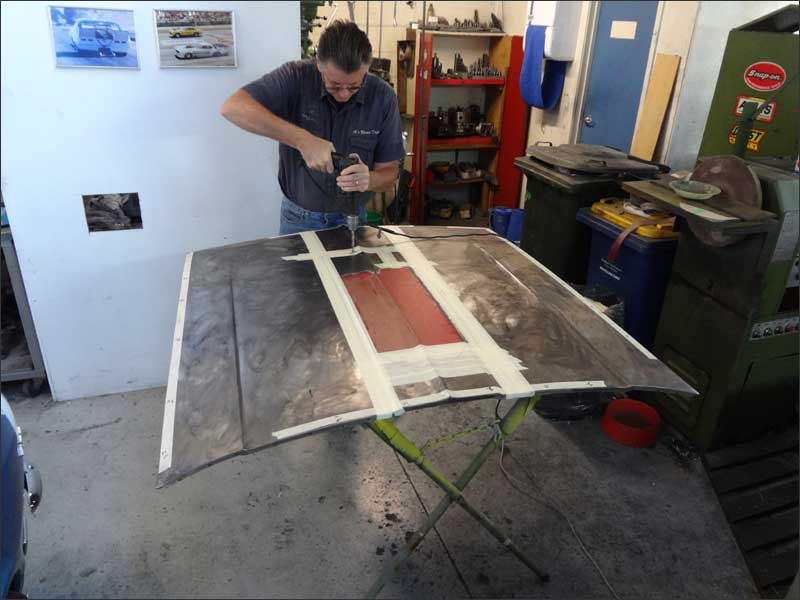 a
Here we making the initial cut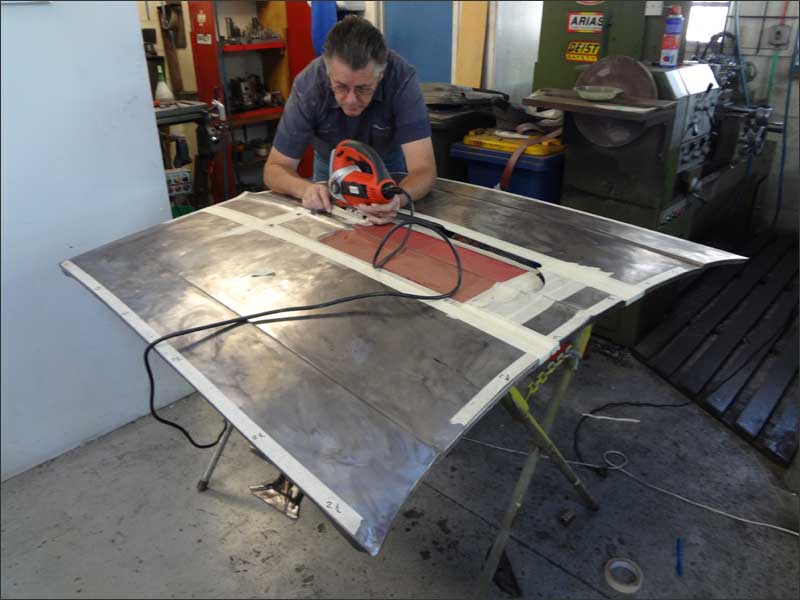 a
The first fits pretty good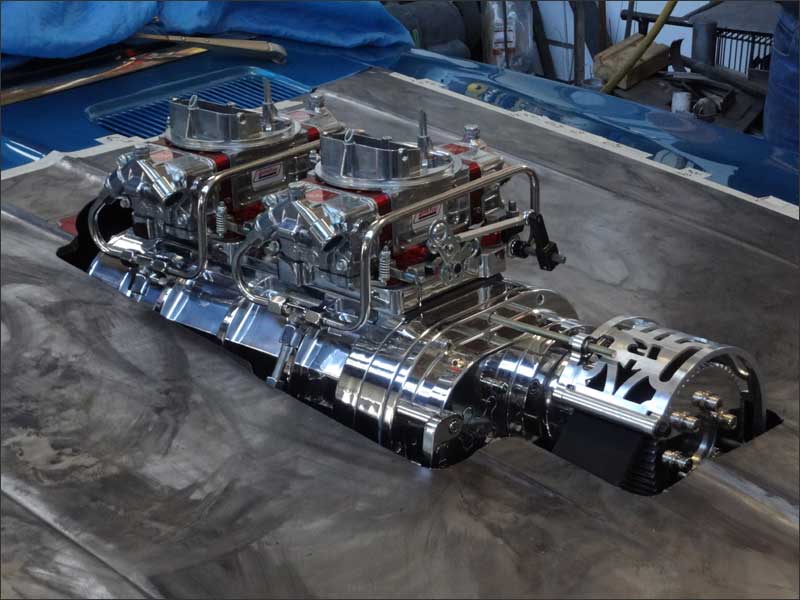 a
Needs more clearancing around this side of the scoop for hood opening clearance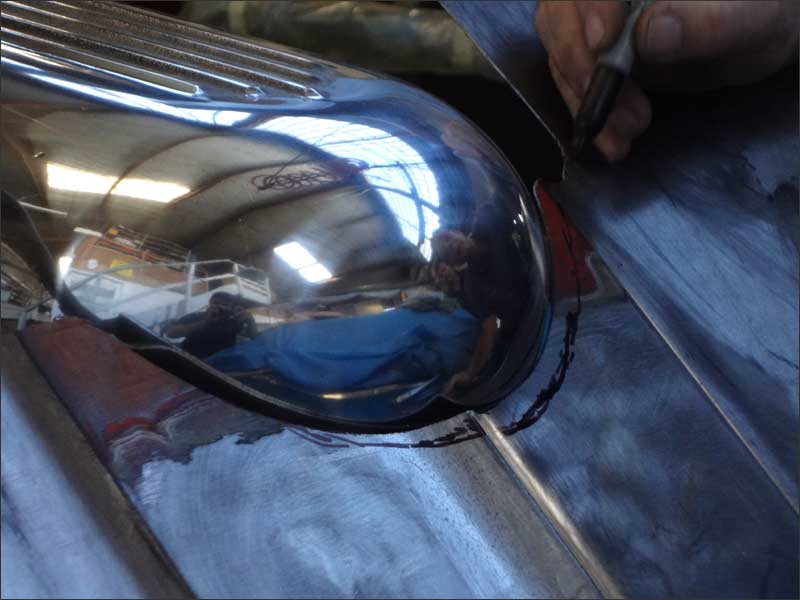 a
Back at it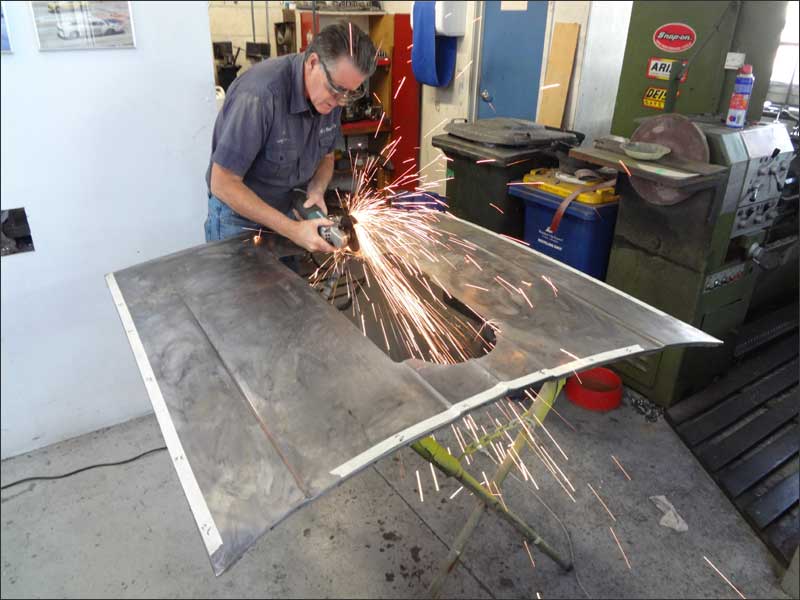 a
That looks better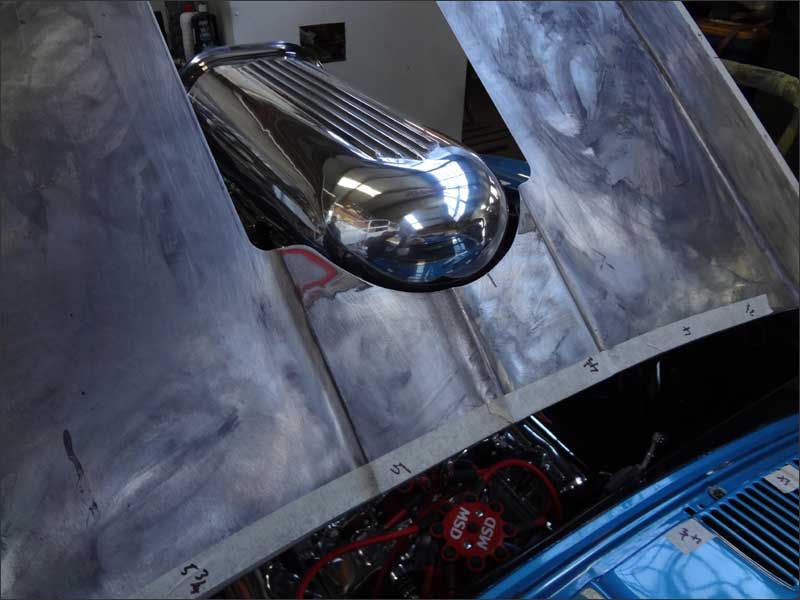 a
Finally got it where we want it, too big a hole and it looks terrible
a
For some reason on this one we had to change things around to get the lower pulleys to line up with the water pump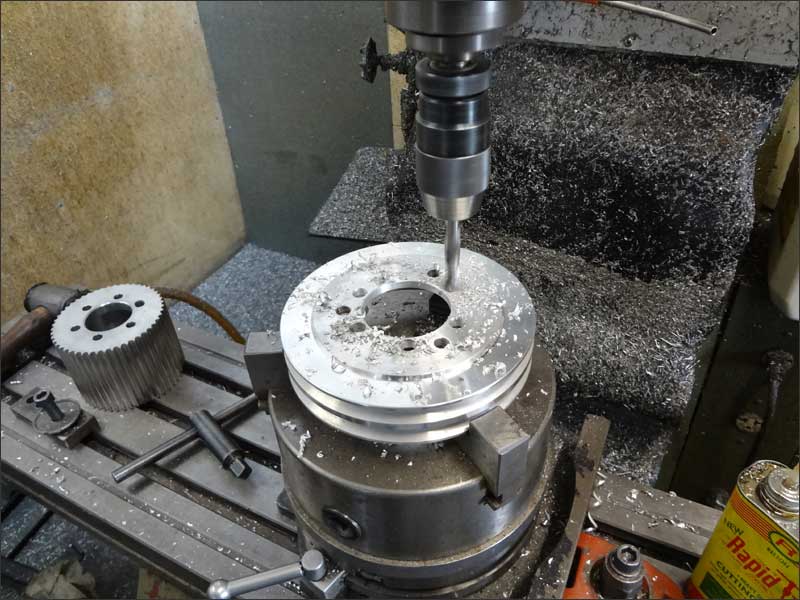 a
On goes the rest of the drive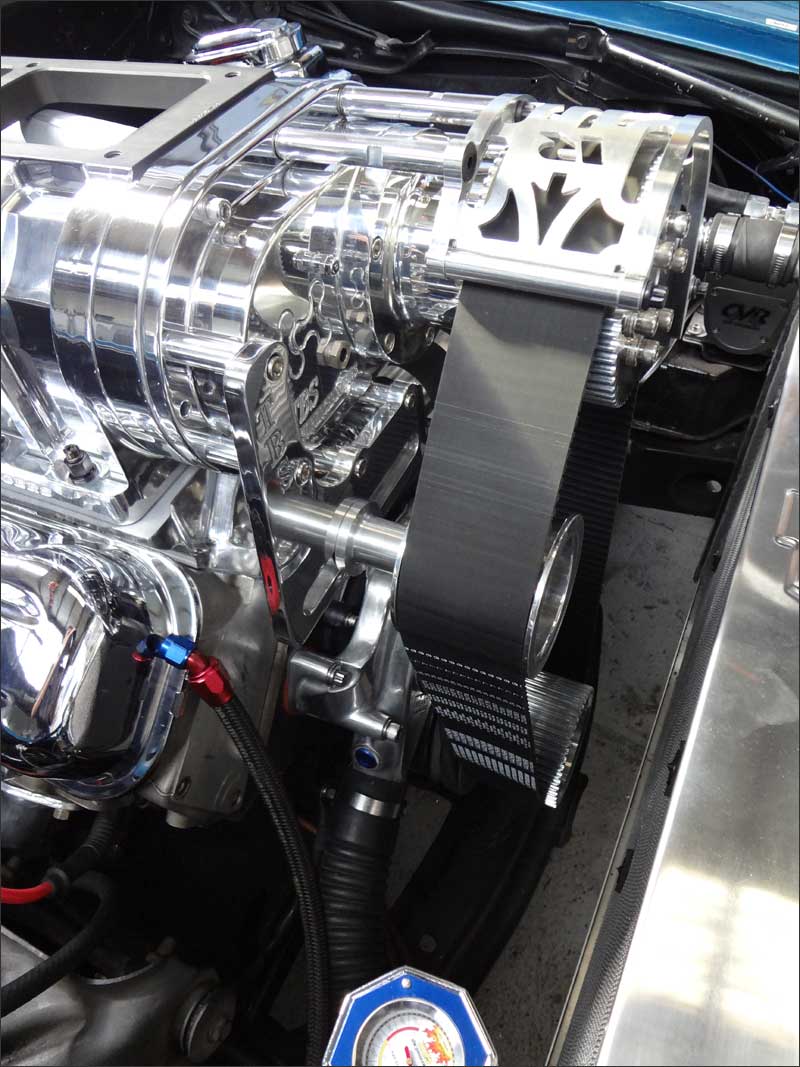 a
Good shot of distributor clearance with an 8-71 on a BBC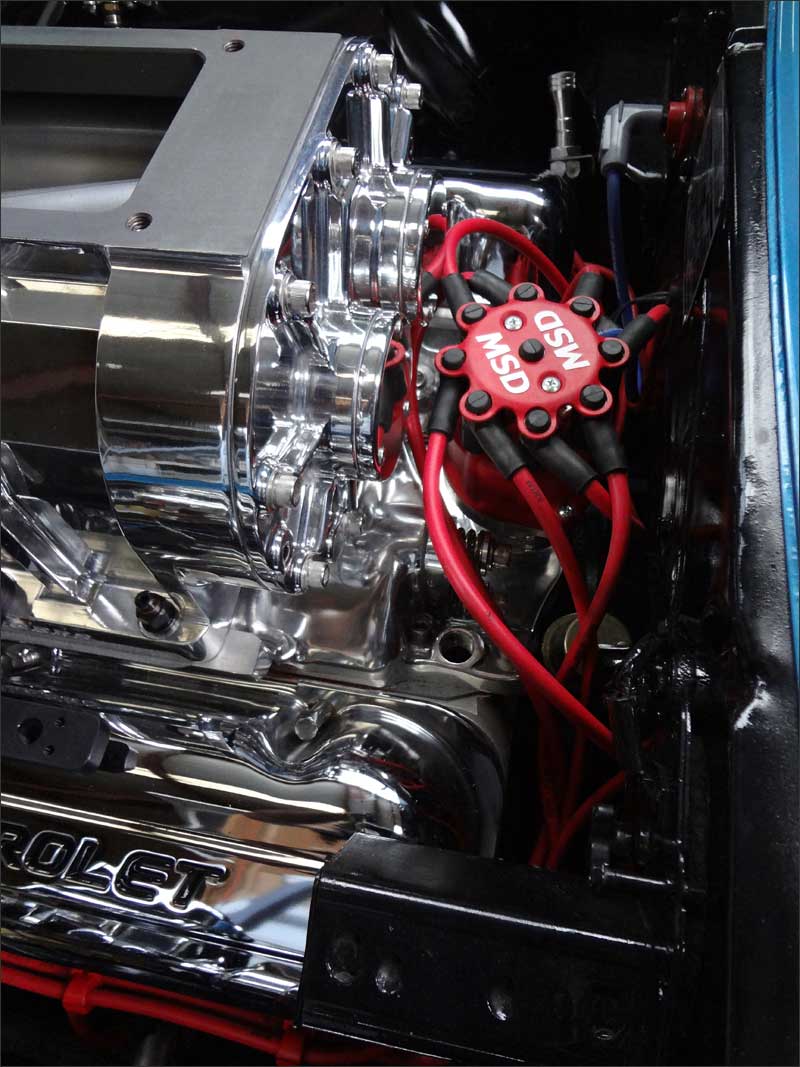 a
We tapped the dual adapter to 1/4 npt for the vacuum line for the brakes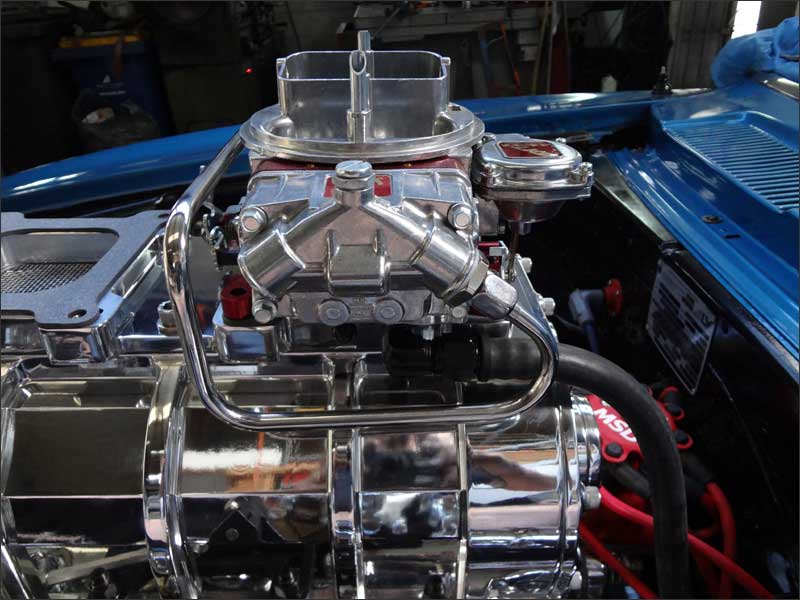 a
Had to remove the throttle pedal out of the car to bend it, some time setting up the throttle linkage for correct travel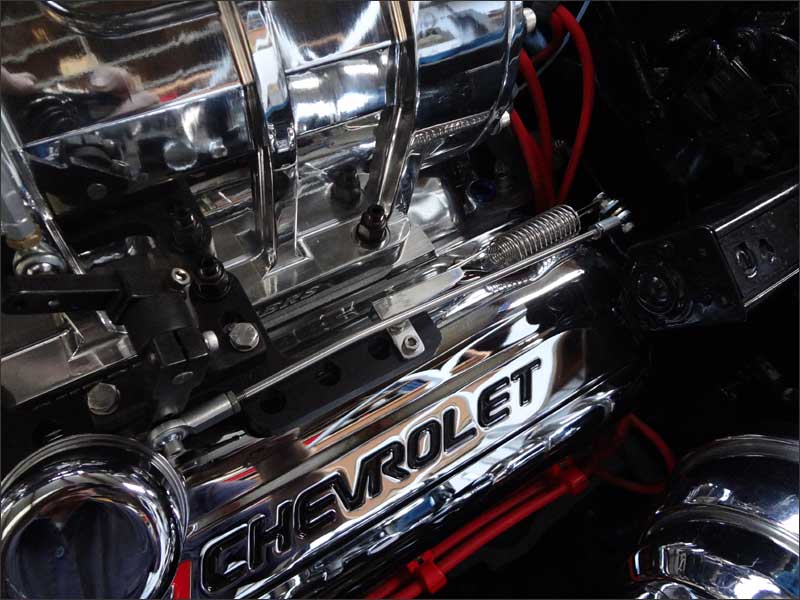 a
heres the fuel line up to the bridal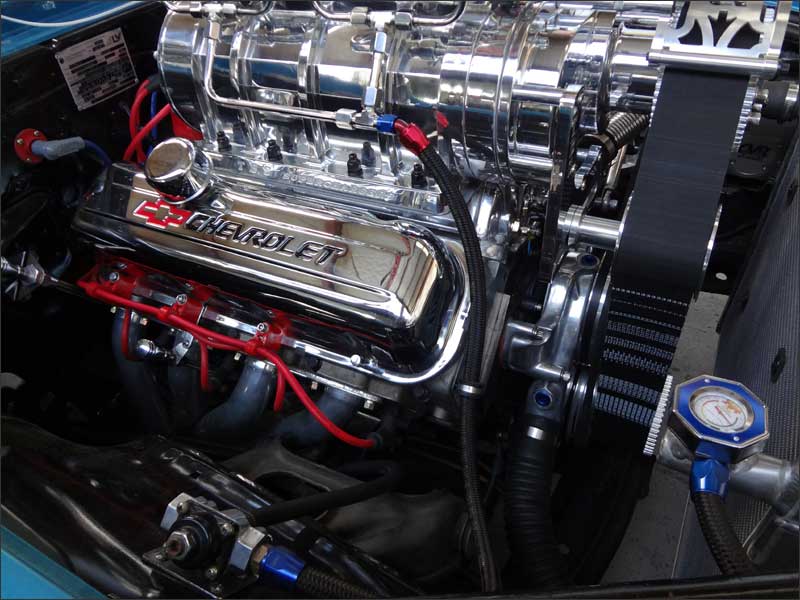 a
Peter had everything in the mounted so it was easier to set things up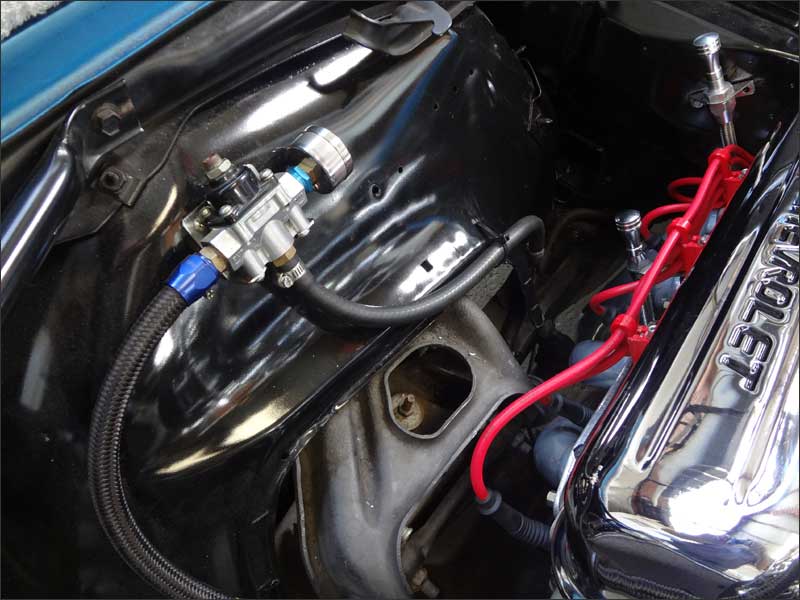 a
Starting to wire up the innovate Air Fuel meter for tuning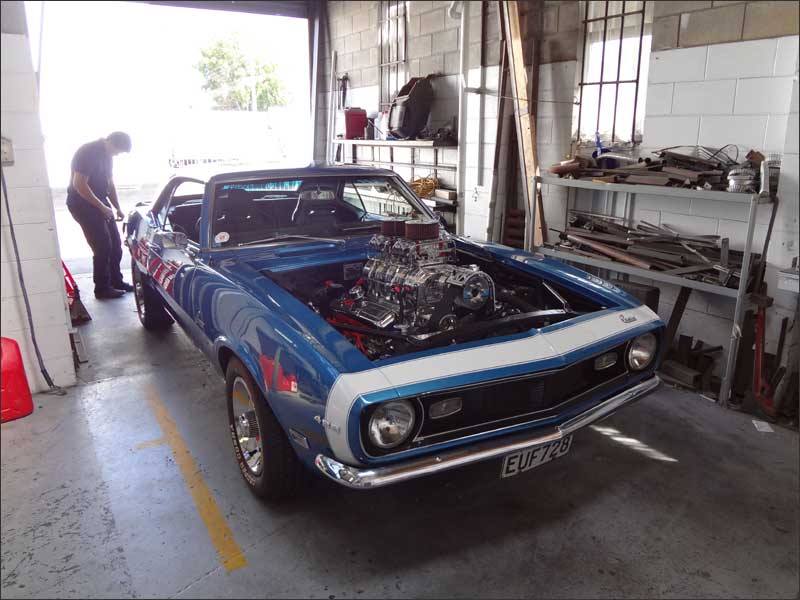 a
Luke taping the wires over the body for measuring the A/F numbers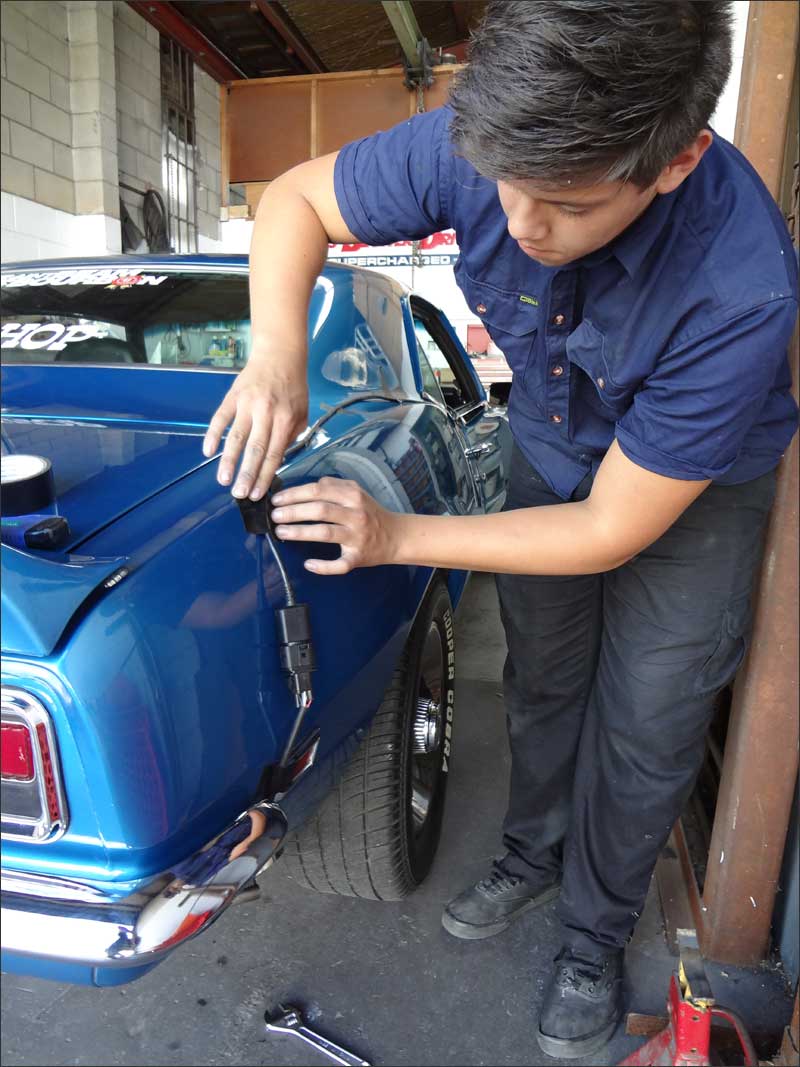 a
In the car and calibrating the A/F meter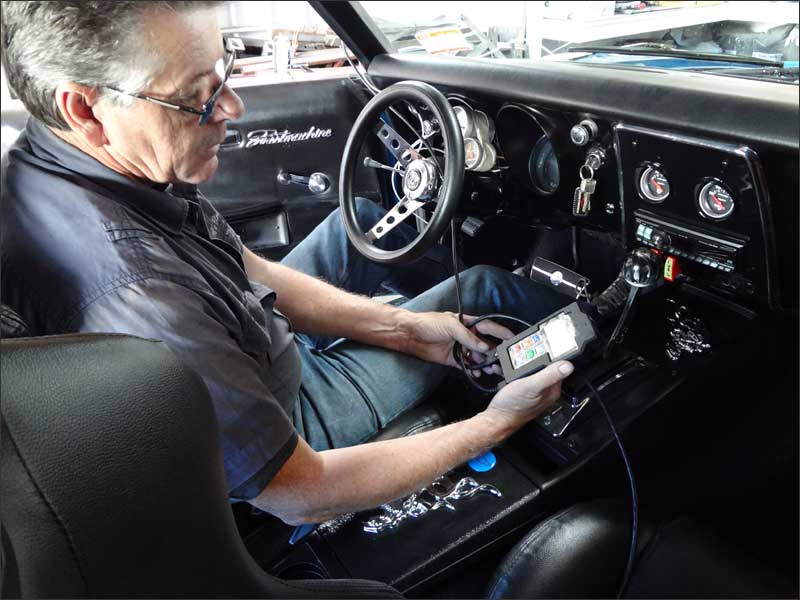 a
A short spanner cut helps undo the back filter bolt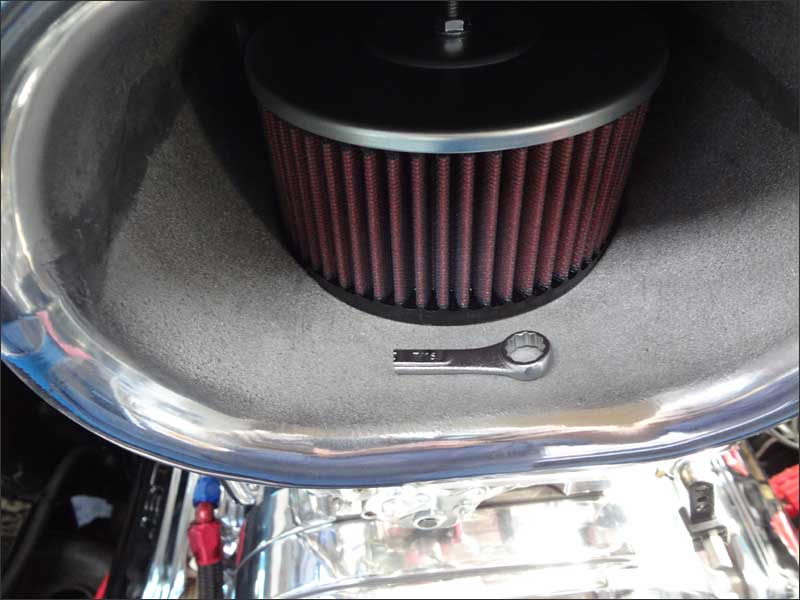 a
Took it home for one night to save pulling my boat out again, outside my house, looks good there Pete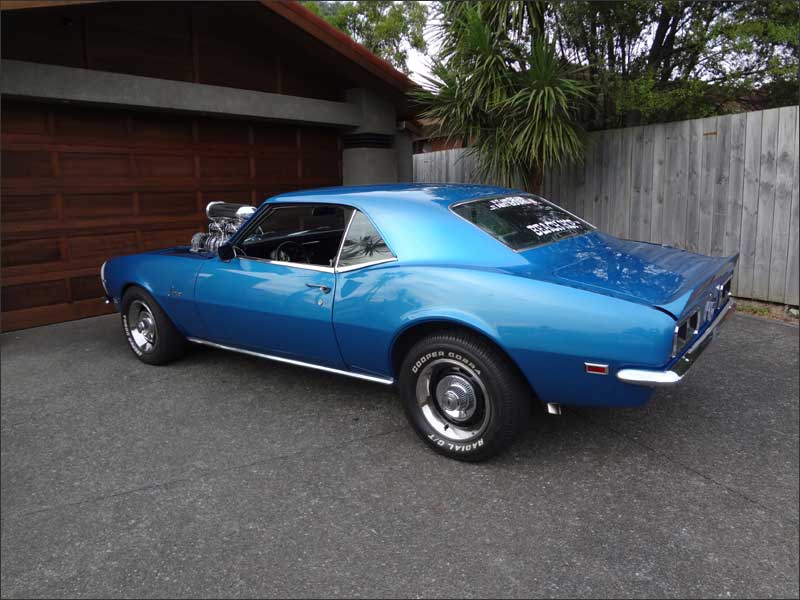 Day before being picked up just needs the hood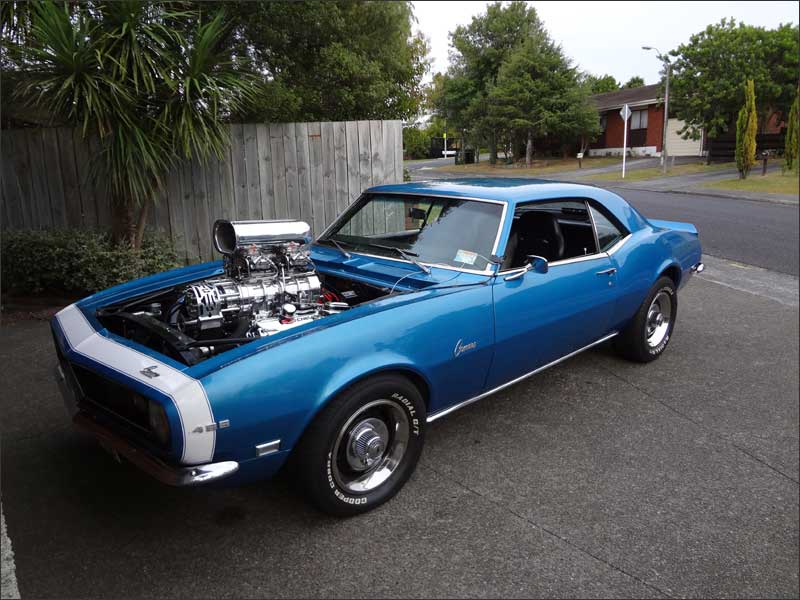 a
All done and leaving the shop to go have the hood finally fitted at the painters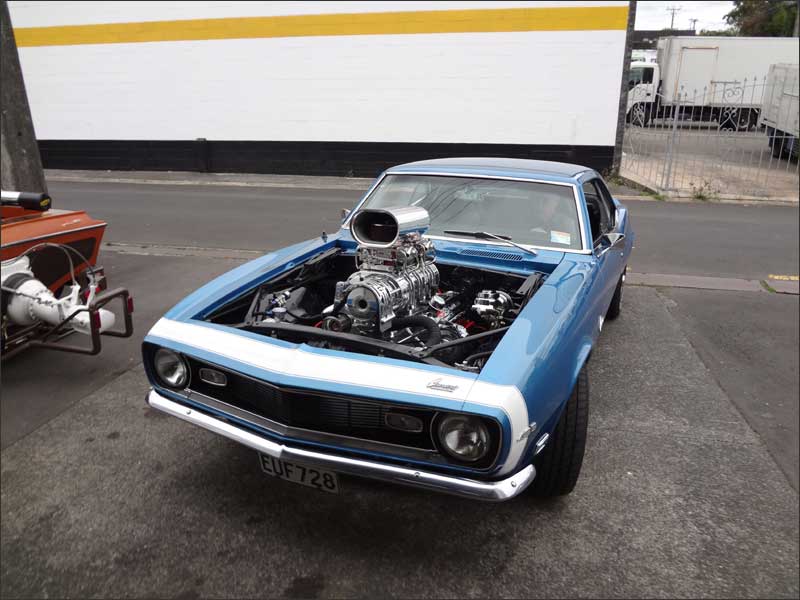 a
Drives up nice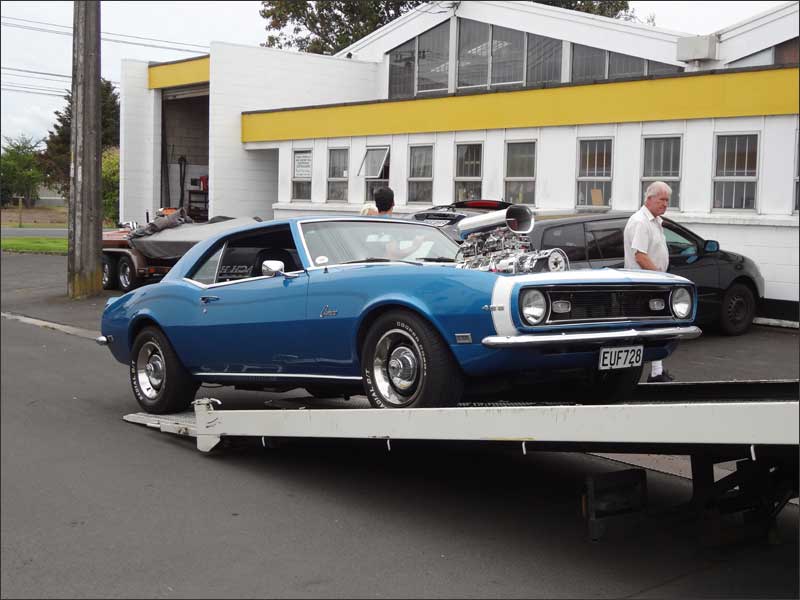 a
First stop for Pete is the Gas Station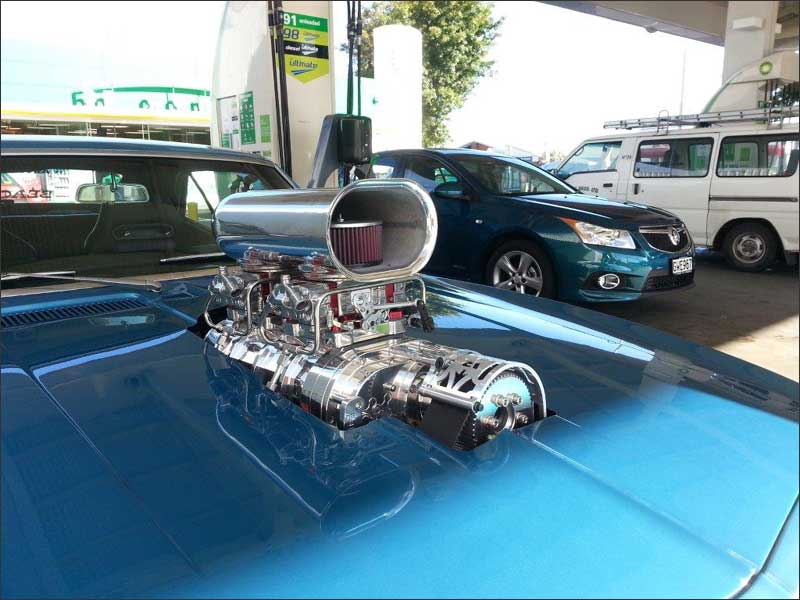 a
On the way to Wangamata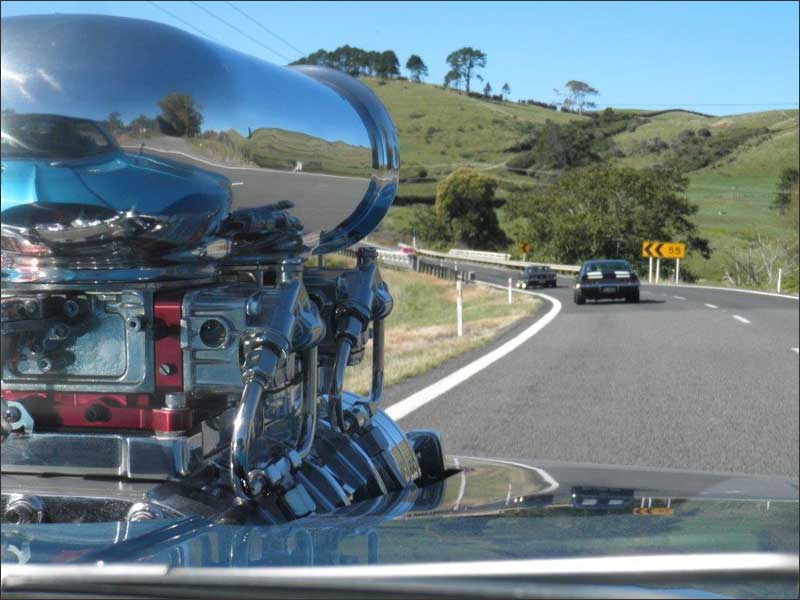 a
Looks cool, cant beat the shape of an early camaro and Pete has the 70's look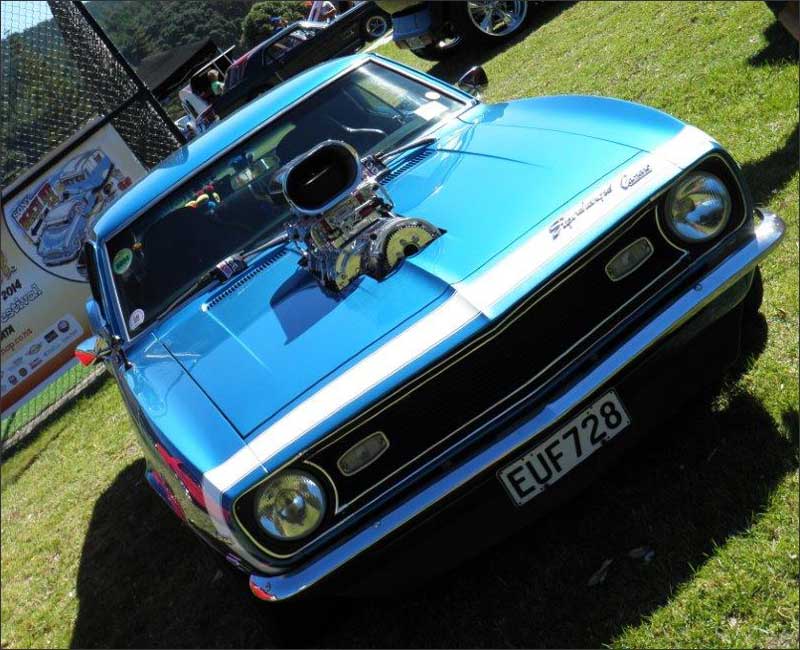 aa
Somewhere at the Beach Hop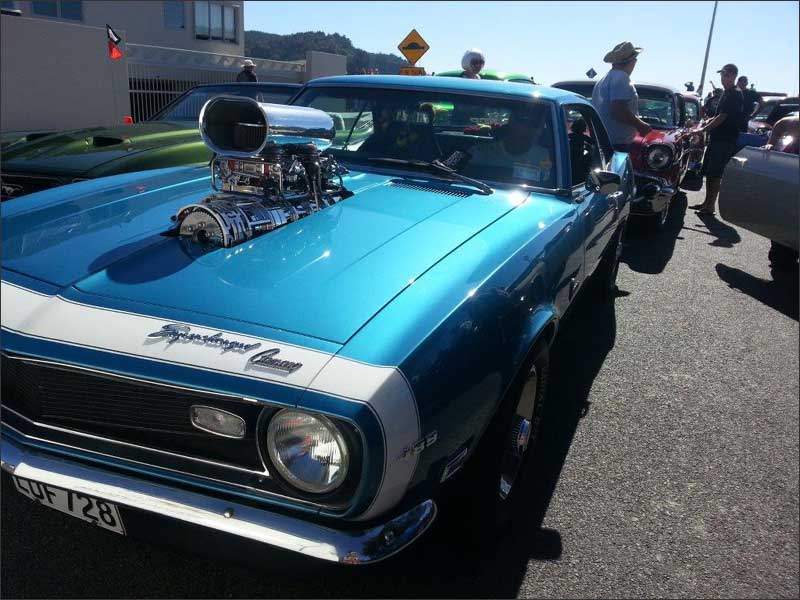 a
Look's mean